It's not your typical rock & roll story.
The Imperfect Strangers have decided to break up. Unfortunately for entertainment value, there are no drugs, no love affairs, no destroyed hotel rooms, and no 18-inch stone monuments. Fortunately for everything else, we are parting as friends and we are all looking forward to getting together to play from time to time. Who knows? We might even appear as guests on each other's work elsewhere.
The band started during the fall term of Make Music PDX in 2012 with six members. That group decided to stay together after the MMPDX program was done, and we added songs and played a few gigs together with our original lineup for about a year. Then we had some lineup changes and as of today, we were a quartet with a semi-regular guest on saxophone. As MMPDX alumni bands go, we had a slightly longer than average run.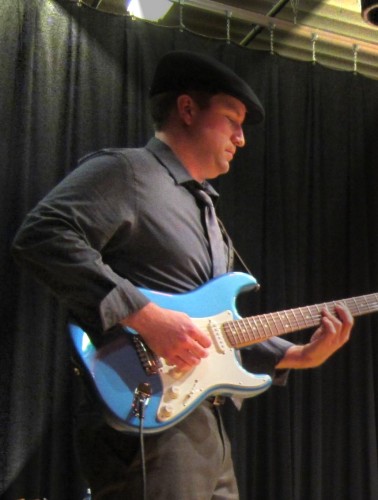 There have been some awesome moments for the band. One of my favorites was a throw-away jam recorded at the sound check at a tech rehearsal before our very first show. It features our original lead guitarist Zach with me on bass.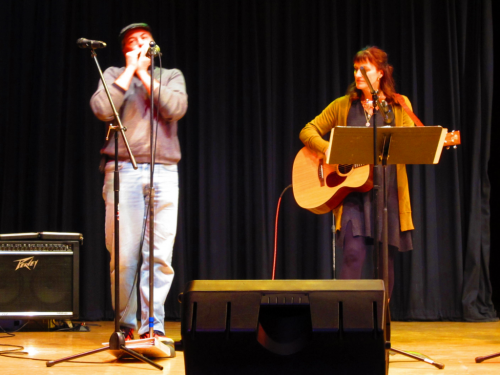 We were incredibly lucky to have Kathleen as our lead vocalist. She has an amazing voice and fantastic expression. She's also fun and a really great person to talk to. She & I have spent a little time working on original music, but our schedules haven't really come together lately. Hopefully we can get back to some of our work soon. Here's a song featuring her amazing vocals and some great chops by the rest of the band.
Give Me One Reason
Don't get the idea that there were only two members of the band who earned my respect. Everyone who's been a part of this project has brought something unique and beneficial to the table, and we are all lucky to have gotten to play together.
I wish that I had a really funny story from the road that I could offer here, but we didn't travel that much and there really wasn't anything that weird happening at any of our shows. What I can offer is that when we played live, we got good responses and audience reactions, and that made every second of hard work well worth the effort in my book. Here's a live recording with one of our best audiences.
Secret Agent Man
Thanks to everyone who's been a part of this band!
To Scott, for your big songbook and determination.
To Don, for your improvisational soul and box of harps.
To Zach, for your amazing tone and quiet joy in playing.
To Kathleen, for your voice and your passion for the music.
To Dave, for your techno-savvy and your theoretical wizardry.
To Doug, for sharing the rhythm playpen and giving me the chance to try drums.
To Shawn, for your great riffs and jazzy aspirations.
To Other Dave, for your horn and your easy-going way.
It makes me sad to see this project end, because a lot of good things came out of it and it would be nice for that to continue. I have learned so much over the past 3 years–there have been many lessons which I already use in my own music biz endeavors, and it's been a great opportunity to explore the bass and hear music from different angles. Having heard so many band breakup horror stories, I am incredibly thankful that we were able to come to this decision without too much drama or anyone getting really angry at anyone else. I look forward to being able to make more music with any and all of these people. They have helped me become a better musician and a wiser human being.
At least we never got second billing under Puppet Show…