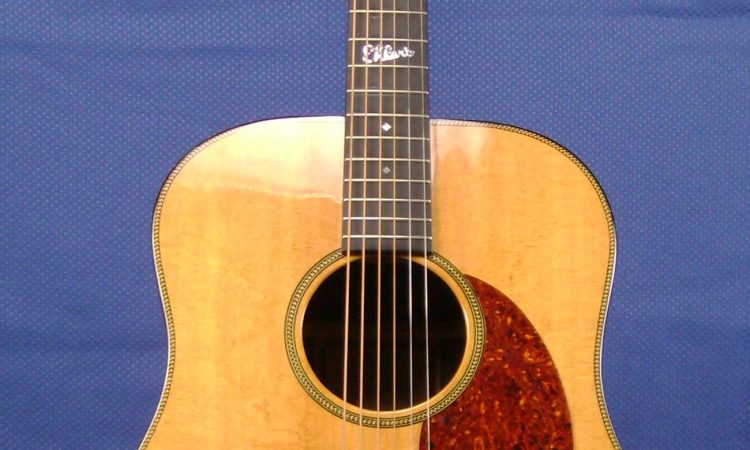 This was my first high-end acoustic guitar. I love instruments that are distinctive in some way, and learning about this one made the deal for me. Ehlers guitars are all hand-made in a small shop in Mexico. Aside from beautiful craftsmanship and excellent tone, I really like the Ehlers corporate motto, "Ehlers guitars–no bullshit." The folks at Pioneer Music Co. gave me a great deal and wonderful service on this exquisite instrument. It lives in a TKL Prestige Arch-Top case (model TKL-8815), which is protected by a case cover from Colorado Case Company.
The guitar was built in 2005 and spent its early life as a shop guitar in the Ehlers workshop, played by Señor Ehlers, his visitors and his staff. During that time the original neck was removed and some improvements were made to it. The guitar then found its way to Pioneer Music, and from there into my toybox. I've added a pickup and some custom inlays since then, all done by Portland Fret Works.
Specifications
Make:  Ehlers
Model:  15
Serial #:  528
Top:  Bearclaw Sitka Spruce (aged 20 years before the guitar was made)
Back & sides:  Indian Rosewood
Fingerboard & bridge:  Ebony
Peghead inlay:  Brazilian Rosewood
Fingerboard inlay:  Dog paw prints in gold mother-of-pearl (see photos, below)
Pickup:  K & K Western Mini
Strings:  D'Addario EJ17 (.013-.056 Phosphor Bronze)
More Photos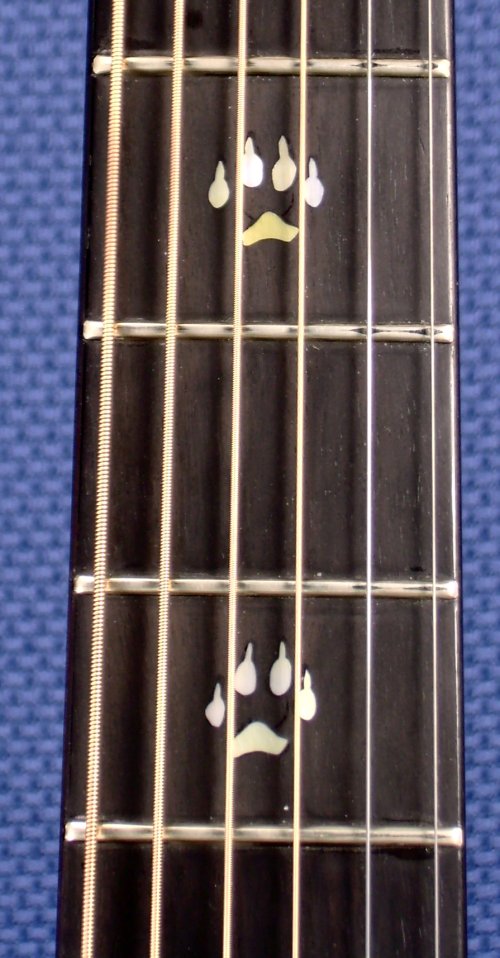 Close-up of the paw print inlay (gold mother-of-pearl). The gang at Portland Fret Works not only did the inlay work, they also helped me find the design.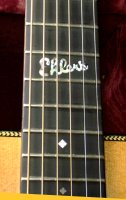 Close-up of the Ehlers logo (silver), inlaid at the 12th fret instead of on the headstock. Something a little different. When I had the paw prints done, I couldn't bear to have this inlay replaced so I left it original.