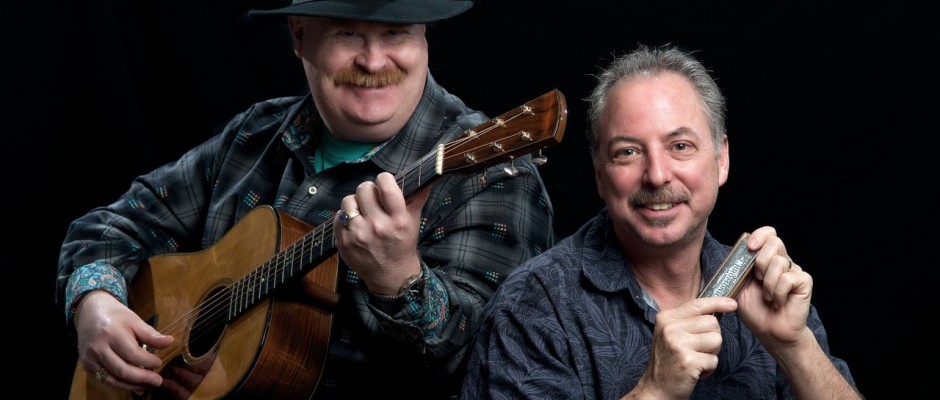 Music Plus Adventure Equals Fun
Combining styles and influences from across the musical spectrum, The Freelance Troublemakers bring a spark of originality and fun along with their take on classic toe-tappers and creative original songs.  Their spontaneity, creativity, and humor add the perfect touch to any event.
Jim Dorman
Jim's guitar style is filled with energy, creativity, and a passion for music. He adapts his playing to suit the mood of the moment.  This brings a freshness that keeps audiences coming back for more.  His expertise on a number of instruments helps him to explore each song from many different directions.  His combination of harmony and melody make a perfect complement to Don's rich textures.
Don Porth
Don is not only an accomplished harmonica player, he's also an excellent improviser. His expressive, spontaneous style has given a distinctive spark to bands over many years.  He's great at finding the perfect note at the perfect moment while allowing other musicians the opportunity to add to his ideas.  His love of music and wry sense of humor keep audiences smiling and laughing throughout every show.
When they get together, the results are nothing short of magical. They'll do justice to your favorite tune, and then take a left turn into a joyful detour of improvisation, finding their way back after taking the audience on an exciting musical adventure.
A Little History
Jim and Don met in the Make Music PDX class in the winter of 2010, and have been making music together ever since. They've played together in a number of bands in the Portland area and are now exploring new directions as a duo.  They invite everyone to join them on their musical adventure!
BOOK THEM TODAY!